Jemena
JEMENA'S MAN BUILDING TRUST
Jemena's new NT Corporate Development Manager has lived and worked in regional Australia for more than three decades and if the job was not based in Darwin, he was prepared to watch the opportunity pass by.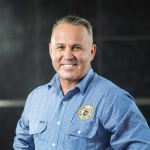 Words by

Ashley Manicaros
Published

01 April 2021

Jemena's new NT Corporate Development Manager has lived and worked in regional Australia for more than three decades and if the job was not based in Darwin, he was prepared to watch the opportunity pass by.
So passionate about the decentralisation of governance to regional areas, Brendan Bourke, made the decision to leave Western Australia where he had built a successful career across education, sport, and the energy sectors on the provision he would live in the true capital of Northern Australia.
"I just did not want to be another drop-in who landed into Darwin, had a few meetings and then flew out again," Mr Bourke says speaking from Barkly region capital Tennant Creek. "If this job wasn't going to be based in Darwin, then I would not have taken it.
"In regions you have got to prove yourself and I will be meeting people and discussing what we are doing a lot. I expect to be on the road for two weeks every month. And I expect people will come to know when I am in town when they see my Jemena-marked LandCruiser parked in the main street while I'm grabbing a coffee."
Jemena owns and operates the Northern Gas Pipeline. It is agnostic in that it does not focus solely on one form of energy and has interests in infrastructure, energy generation and renewable energy.
The NGP is a 622-kilometre pipeline, which connects Tennant Creek to Mount Isa in Queensland, transporting gas from the Northern Territory's conventional gas resources to eastern Australian consumers.
The $800 million project set a new Territory benchmark in community engagement, having the foresight to engage proactively in stakeholder engagement before submitting its tender. Mr Bourke is aware of the community expectations on engagement and the company's culture in that area.
During the discussion, promoting projects of innovation and value that can significantly improve the productivity, sustainability and amenity of regional communities is a constant theme with Mr Bourke.
"One of the strengths I bring to our business is that I have worked across the education, health, sport and business sectors. From experience I can see the potential and value for a more integrated approach to how communities can benefit and be sustained in the long term when major projects are developed" he says.
"We do not believe that the wealth should drive out of the place and that regional Australia and the people in the bush should see the tangible benefits.
"Jemena wants to work collaboratively with the communities we serve, and we are keen to make a positive contribution that goes beyond the projects we develop. The NGP is a really good example of what can be achieved when partnerships between communities and business are strong and lasting.
"There are enormous opportunities in Northern Australia, particularly in the Territory. Jemena wants to work with the stakeholders by getting involved in the community, just like we have in the past on the NGP."
Mr Bourke started his regional Australia journey in the Western Australian town of Wyndham as a schoolteacher in 1980. He taught primary and high school students, as well as coached local teams.
Those two years reinforced his attachment to the regions developed growing up in country WA. He returned to Perth where he continued work in education as well as consultancy roles with the WA Education Department and the WA Department of Sport and Recreation.
During this period, Brendan was part of a team at the Department of Sport and Recreation that developed a significant initiative aimed at children whose parents were not home after school. Known as Sportsfun, the after-school program consisted of Year 11 and 12 high school students coaching primary aged students in a variety of modified sports.
It solved two problems – the first was a lack of coaches for after-school practice and the other was giving potentially at-risk youth focus. After starting in WA, the program went national.
"Many thought this would benefit the primary school students the most because we could not get enough coaches and we could not afford to pay coaches for the after-hours work," he says. "The truth is the teenage coaches got the most benefit. We ensured they had a level one coaching accreditation and we got great results."
Thousands of primary and high school students benefited from the Sportsfun program and the number of other youth coaching initiatives were developed as a result of the initial scheme.
Brendan began his energy journey with Western Power Pilbara division in 2000. He was part of a small team that transformed energy service delivery to regional and remote Western Australia including the establishment of a dedicated energy provider, Horizon Power.
"We were able to mount a convincing case that a standalone business, dedicated to regional and remote communities was essential in developing safe, reliable and efficient energy solutions for customers in our 2.3 million square kilometre service area."
In an often cyclone-ravaged WA, Brendan played a major role in getting underground power to Pilbara coastal communities that often suffered extended power outages following severe weather conditions.
"It is gratifying to see that when cyclones hit places such as Karratha, Roebourne or Port Hedland that the lights continue to stay on and residents and businesses are able to focus on immediate concerns, such as clean-ups rather than safety issues associated with fallen lines and power restoration issues."
Before taking up this role, Mr Bourke was Horizon Power's key representative on the Australian Square Kilometre Array Industry Consortium (ASKAIC), working with a range of global and national companies as well as local, State and Commonwealth government stakeholders to develop the Pathfinder and SKA projects. He was also a member of the Regional Development Australia Committee in Perth.
In 2000, he was awarded the Centenary Medal for his services to regional Western Australia.
"I'm looking forward to this next chapter of life – being a part of this vibrant community and making a positive contribution to the growth of the Territory.
"I'm sure I'll see you somewhere
on the road…"
Brendan Bourke can be contacted at: brendan.bourke@jemena.com.au