CONOCOPHILLIPS
INNOVATION WAY FORWARD AT DARWIN LNG
Innovation has played a big part in the story of Darwin LNG, helping to do business better across a range of different areas: from operations to the environment to the workforce.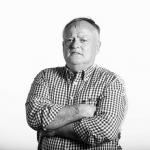 Words by

Nigel Adlam
Published

01 April 2020

One of those areas is in relation to the fast and accessible manufacturing of crucial parts required by Australia's energy resources sector. Through a partnership with Charles Darwin University (CDU), NERA (National Energy Resources Australia) and technology developer SPEE3D, Darwin LNG has been involved in a collaborative project to support a new high-speed, low-cost 3D metal printing technology.
As the industry partner, Darwin LNG provides a setting to identify practical application and test the technology. SPEE3D has worked with engineers on site to identify different use cases and areas of business improvement.
One major requirement of the project was for the ability to print custom, obsolete and high-volume parts on demand. This would reduce inventory and minimise plant downtime that can come with being reliant on parts necessitating long lead times, or which may no longer be available. From an industry perspective, it is important to ensure that 3D printing the part provides benefits over and above the conventional means of sourcing, that risks were managed, and process suitability was satisfied.
An opportunity emerged to print a custom valve adapter to fit a flexible shaft to operate a valve located at height, otherwise requiring scaffolding to access. Engineers at Darwin LNG and SPEE3D have been working together over the past six months on a design for the valve adapter that satisfies process and risk requirements. It is anticipated the valve adapter will be installed at Darwin LNG in the next few months. This will be the first practical application of the SPEE3D technology in active use in an industry setting in Australia.
Once the printer has been finalised, it is expected it will be used throughout Australia and the world as the first product with the capacity to generate parts for industry on demand in remote locations. Darwin LNG is focused on identifying innovative opportunities that are not only of benefit to the production and operations side of the business, but also those that result in positive change for the workforce and the environment.
In fact, it was by looking at ways to reduce the facility's carbon emissions that an innovative battery project came to life at Darwin LNG. The Northern Territory is at the forefront of an exciting shift that is using battery storage to manage carbon reduction, with Territory Generation and ABB trailblazers in this space. Onsite power is generated at Darwin LNG using five Taurus 60 solar turbines and fuel gas directly from the Bayu-Undan pipeline.
If you peer "under the bonnet" at Darwin LNG, you'll find four turbines running continuously during normal operations, with extra spinning reserve as a safeguard in the event of a unit tripping. The installation of a battery energy storage system will provide the spinning reserve in the form of energy storage, removing the need for an additional turbine to provide this reserve capacity.
This will allow the turbines to run at maximum efficiency while saving thousands of tonnes of fuel gas and reducing associated maintenance costs. The battery energy storage system will have an installed capacity of 4MW using lithium-ion technology, sufficient to provide reserve power for a duration of approximately 30 minutes. This is the first use of large-scale battery technology at an LNG facility globally, reinforcing Darwin LNG's commitment to sustainable development. It is anticipated the battery project will reduce Darwin LNG's CO2 emissions from power generation by up to 20 percent.
There is also significant potential to integrate with other opportunities that are being considered by Darwin LNG to increase energy efficiency and reduce emissions such as alternative energy generation. Innovative thinking at Darwin LNG extends into the workforce, as demonstrated through the pioneering NT operator training program, which since 2010, has seen 36 Territorians gain the skills and expertise required to run a world-class LNG plant. At the time, Australia was undergoing a rapid expansion in the LNG industry, with few experienced operators living in the Darwin area.
The operator training program was an innovative solution unique to the Territory, and in partnership with Programmed Skilled Workforce (formerly Energy Apprenticeships Group), sought to engage long-term residents who held transferrable process or trade skills in another industry. The year 2018 marked the seventh operator training program at Darwin LNG and the first in a collaboration with INPEX.
It was the first collaborative LNG industry-based training of its kind in the Territory, which provided the critical mass for local education institutions to deliver the majority of training locally. More than 1200 applications were received for the program, with applications from women and Aboriginal and Torres Strait Islanders received in record numbers.
After a rigorous recruitment process, six trainees were selected to commence at Darwin LNG and five at INPEX. All six operator trainees in this intake at Darwin LNG have now successfully completed their traineeship, obtaining Darwin LNG Level 2 Purification Competency and their Certificate II in Process Plant Operations.
Five have gone on to be employed as operations technicians at Darwin LNG, including a Larrakia man and three women. Allowing and encouraging innovative thinking is the way forward for Darwin LNG – daring to work a little bit differently will enable dynamic results across all aspects of the business that are of benefit to the Darwin community, workforce and environment. TQ