Inpex
EXPANSION ON HORIZON FOR FAMILY BUSINESS
Max Nicholson grew up in his father's hydraulics workshop and his first memories are as a three-year-old sweeping the floor and cleaning the lathes for pocket money … when the family could afford it.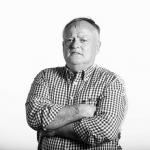 Words by

Nigel Adlam
Published

01 October 2021

Fast forward 30 years and Max has not only taken over the reins of his father's family owned and operated company, Winnellie Hydraulics, he is taking it to a national and global level.
Max's parents Richard and Carol arrived in Darwin with $30 in their pockets looking for work to earn enough money to continue their travels around Australia. They never left.
Like many Territory families before and after them, the Nicholsons fell in love with Darwin and in 1983 Richard opened Winnellie Hydraulics.
Originally specialising in servicing hydraulic components for the growing transport, commercial fishing and earthmoving industries in the Territory, Winnellie Hydraulics now services major global clients in the region's growing oil and gas industry.
After doing a building apprenticeship, Max joined the family business in 2013 before taking over the reins of the company as general manager in 2015.
His goal has been to grow the business and secure jobs for Territorians. A highlight of that growth was securing INPEX as a client.
"It's great to see local people benefiting from the oil and gas industry coming to the Territory," Max says. "It has been a big goal for me to bring people who are born here like myself through the industry.
"Without companies like us and management teams like us growing businesses and looking for opportunities, those jobs would just end up in other states because the capacity and capability wouldn't be here."
The company had five employees in 2017 – it now employs 16 and is expected to expand to 20 by the end of the year, including into South Australia, Queensland and Western Australia.
Max says working with and supplying the INPEX-operated Ichthys LNG facilities has built the company's confidence to expand into an area that wasn't being offered in Darwin – valve supply.
"There was not a single valve supplier in Darwin and there is no one up here doing it, so we thought, 'well we will do it'.
"The valve business has been so successful, of which INPEX has been so supportive, we have brought it out to be a separate division of Winnellie Hydraulics that directly employs several people in the business in Darwin and other states."
Max sees the growth for Winnellie Hydraulics as inevitable and counts the support and business with INPEX as giving him the confidence to expand in the Territory and interstate with the valve supply business.
"We work so closely with INPEX, and we try to build the best practice procedures and processes in our business to service their needs," he says. "With our capacity and the fact, we are so busy, we need to do things right the first time and we have applied this methodology to our expanding operations in Australia."
The businesses' newest arm – Winnellie Valve and Supply – just picked up a significant project in Perth, Western Australia. The East Rockingham Waste to Energy Project involves burning plastic to make power and the valve supply contract is worth $600 000 – $700 000 to the growing business.
"I can't remember the last time a Darwin business has competed in the Perth market like that – it is very unusual for a local business to win a job of that size, usually it is the other way around," Max said.
"We wouldn't be financially positioned to retain those technical specialists on a full-time basis and be able to target those opportunities if it wasn't for the work we do for INPEX at the Ichthys LNG facilities."
Max's involvement in the business has seen Winnellie Hydraulics transform from a basic hydraulic business working for the mining and resources industry to a business working for global companies on a national platform.
Now the proud father of a baby boy himself, Max is keen to see a bright future for the family-owned company.
"The company was started by my old man in 1983 and now we are winning big projects in Darwin and across the country – the sky's the limit for us."