Emil Tastula A Territory innovator
The Northern Territory has produced a legion of great innovators – men and women who have helped make the world a better place through groundbreaking developments in industry, medicine and the arts.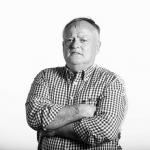 Words by

Nigel Adlam
Published

22 December 2021

Emil Tastula, a big-thinking entrepreneur who began doing work experience on cattle stations when he was still in primary school, has just joined the illustrious list.
Following New Zealand's 2010 Pike River disaster, when 29 coal miners were killed in an underground methane gas explosion, he questioned why a mine's control room could not monitor the health and safety of workers.
Emil and his cousin Andrew Thurlow, who has an IT background, set about fixing the problem.
They brought onboard primary school mate David Thomson and product designer Tim Earl to create Universal Site Monitoring.
The aim was to develop a world-first industrial safety solution that would revolutionise the culture in high-risk and remote workplaces, such as underground mines, remote gas plants, steel mills and other heavy industries.
"I believe it's a step-change in workplace safety," Emil says with infectious enthusiasm. "I believe we can make work safer for people working in high-risk industries."
Emil and Andrew went to many trade shows looking for monitoring devices – and never found anything up to scratch.
"Many millions of dollars are spent on real-time tracking and monitoring on production rates and machine status, but a worker can 'go missing', their whereabouts and safety status unknown until they 'check in' or hang their name tag on their hook at the end of the shift.
"If that doesn't happen, then comes the hard part of going to find them in acres of multi-layered industrial processing plant or underground workings."
Universal Site Monitoring's Personal Safety Monitor – or PSM – is slightly larger than a mobile phone-sized piece of hardware that clips onto a worker's waistband.
It continuously monitors, among other things, a worker's location, even when working underground or in remote areas without GSM network, ambient air temperature and noise levels, slips, trips and falls, man-down events, gas leaks, speed over ground and the worker's biometrics.
The Personal Safety Monitor collects live data and sends it in five-second data packages to a fully-integrated universal data interface smart alert and navigation system.
The live data enables proactive decision making and even prevention of rising emergencies.
"Other workplace monitors only allow central control to react to an emergency," Emil says. "Universal Site Monitoring's connected worker safety solution predicts a possible emergency, which means action can be taken before the situation becomes critical."
The whole system – from software to hardware – was developed in Darwin.
Universal Site Monitoring beat 198 contestants to win the Energy Resources Award in the 2018 Australian Technologies Competition and the Small and Succeeding NT category of the 2019 Telstra Business Awards.
And in 2020, it was awarded a $20,000 grant to fast-track its innovation after taking part in the National Energy Resources Australia Innovation Challenge.
Emil came up with the safety concept after working in the mining industry for more than 20 years.
Andrew provided the IT brains and Tim possessed the design skills.
"It's been a great team effort."
Universal Site Monitoring, which has received strong support from the Darwin Innovation Hub and Territory Government, has arrived at a time when staff safety is the No 1 priority for responsible companies, especially global resources corporations.
There are plans to commercialise the invention in Europe, the United States, the Middle East and Asia when the coronavirus pandemic allows.
Emil, whose late father Jonas worked for a tin mining company in Far North Queensland, was born on the Atherton Tablelands but moved to Kalgoorlie in Western Australia when still a toddler.
His parents decided on a sea change a few years later and moved to the Kimberley to run a caravan park in Kununurra.
"I had a great time in the Kimberley," Emil says. "Lots of fishing, not much school. Life was a real Huckleberry Finn adventure."
Incredibly, he went to work on cattle stations during his school holidays when he was still in primary school.
"It was another adventure – borehole maintenance work, mustering, riding horses. Occasionally, I got to ride in the bull catcher.
"The head stockman and station manager kept an eye out for me. They saw it as a training ground for future jackeroos."
Emil seemed destined to become a ringer – but when he was 13 his parents decided that he and his sister Linda needed a better education and the family moved to Darwin.
"I loved Darwin straight away. It was like Kununurra but with more to do."
Jonas took over the management of mining supply business Atlas Copco and Penni worked for Burns Philp Travel, Garuda and then Diamond Beach Casino before opening her own inbound operation, Northern Gateway – and quickly became a leading figure in the tourism industry.
Emil's sister Linda and her former husband Simon Philpin, plus the extended Tastula family, later built and operated Pee Wee's at the Point restaurant in East Point Reserve in 1997.
Emil went to Berrimah Primary School, Parap Primary and then Darwin High.
He did work experience at the Windarra nickel mine in Laverton in Western Australia when in year 11 and was delighted to come home – after a three-day bus journey – with a fistful of dollars.
"I wasn't paid for working on cattle stations – just given my keep – so I thought it was marvellous to earn money. I thought, 'This is the industry for me'."
He graduated from year 12 – only just and only after his dad promised to give him an old LandCruiser if he passed – and three days later travelled more than 3700 kilometres back to Laverton to be a millworker.
It was the start of more than two decades in the mining industry, which took him across Australia and twice to Papua New Guinea.
Emil, whose first name reflects his Finnish heritage, worked his way up to hold senior positions in many mining operations, including the start-up of the Tanami gold mine, and later branched out into civil construction.
He ended up training Papuans to become mill operators.
Emil, who has had the strong support of his wife throughout his business journey, even found time to start and run fishing charter business Arafura Boat Charter with his dad.
"You never get fishing out of your blood," he says. "Dad also loved it. I still own a boat and run charters every now and again."
Emil also operated a successful marine company called Work Boats Northern Australia for 10 years before selling it to a bigger business.
He invested a fair bit of the proceeds into Universal Site Monitoring.
Emil and his wife Pauline, who met when she worked for Penni at Northern Gateway, have three children: Lily, 17, Abbi, 15, and 14-year-old Jonas.
"Family, friends, and community are the most important things in my life."
His dad loved the view from Pee Wee's and asked for his ashes to be scattered in Darwin Harbour.
There's a seat with a remembrance plaque carrying Jonas's name in a lovely location in the restaurant gardens.
When his busy schedule allows, 52-year-old Emil likes to sit on the old man's seat and look out across one of the world's most beautiful harbours.
"My dad left a legacy," he says. "And in a small way, that's what we'd like to do"