NT Cattleman's Association
DONAL TAKES TO THE SKIES
Katherine-born Donal Sullivan always expects surprises in her day job. She is one of very few female cattle mustering pilots in Australia – and an excellent photographer.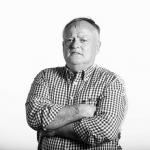 Words by

Nigel Adlam
Published

01 July 2020

Donal, who has lived on Cave Creek Station, 10 kilometres from Mataranka in Never Never country for 22 years, says being a mustering pilot is a "very dynamic job" "With so many factors at play, it's almost guaranteed there'll be a few surprises. "Aerial mustering does have a reputation for being dangerous, but driving down the Stuart Highway is dangerous, too. "There are plenty of things you can do to make it worse or better for yourself.
There's a lot of hype about mustering in particular and any accidents receive a lot of media attention. "But the industry is a lot more regulated now than what people realise. There are a lot of regulations and procedures, which I follow to mitigate the risks involved with flying and mustering." Donal's day during the mustering season begins before dawn with "a yarn" with the station crew mustering on the ground and any other pilots.
"We clarify where the fuel will be dropped off, who the ground crew will be, what UHF channel we'll be using, where the ground crew will be located, any hazards in the paddock, such as repeater towers, and where the cattle need to end up at the end of the day. "Often we'll refer to a map of the paddock to look at places where the fences might be dodgy, and talk tactics about which way the cattle will prefer to move – they can have very strong preferences sometimes.
"Station managers who have been on that station for a few years often have great insight into what approach works best for certain paddocks. "We always try to get the cattle moving early, while it's nice and cool. They'll often make their way towards their favourite waterhole or trough, which may take a few hours. "From there the ground crew riding horses and motorbikes will often mob the cattle together and start to walk them to the yards or holding paddock that we're aiming to get to.
"There is a huge variation in an 'average' day flying – the temperament of the cattle, the terrain, the weather, ground crew's abilities, my own abilities and size of the paddock all have a big impact." Donal, the eldest of five siblings, had a carefree childhood. "We spent a lot of time swimming in the river on the property, exploring and making up games together.
"We'd go on lick (cattle supplement) runs with our father or during mustering we'd spectate from the top rail of the cattle yards and heckle Dad's workers. "When I turned 10 I was allowed to start going mustering with the crew so I considered that pretty thrilling. "I'd also help tail young cattle to get them quiet and teach them to walk as a mob, which I think was a great introduction to stockmanship. It's something I appreciate more as I get older."
Donal says she "never really had the guts" to pursue her interest in flying until she asked a pilot if he thought she could do it and he said: "Absolutely." "I wanted to fly because I like working cattle. I enjoy getting to see different country and I felt that a job with less emphasis on physical ability would be kinder to my body in the long run.
"I didn't really know if I would enjoy mustering as a career, but there was only one way to find out. And I've got this far, so that's a good start." Donal started taking photos when she was eight or 10 with disposable cameras. "I aim for a documentary-style of photography, but I think I've still got to work on that. "I had visions at one stage of being a professional photographer, but I've accepted that I probably won't ever be at that level, or ever be prepared to commit fully to pursuing that.
"I just try to enjoy capturing what's around me in a way that makes it a true reflection of that moment. "And if I end up with print-worthy photos at the end then that's good, too." TQ