CUSTOM WORKS: A BOAT BUILDER OF QUALITY
One of Australia's leading boat builders is in the mood to grow.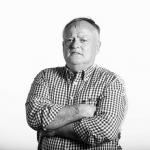 Words by

Nigel Adlam
Published

31 March 2023
Darwin-based Custom Works has enjoyed steady, sustainable growth since being founded by Dale Smith in 2007.
They have built more than 100 vessels – mostly from 5-7.5 metres – for clients ranging from Water Police, Indigenous ranger groups, guided fishing industry, Coast Guard, Fisheries, Parks and Wildlife, and recreational anglers.
The business, which also builds trailers and carries out repairs and modifications to boats, has in recent years taken on contracts to build larger vessels up to 15 metres.
Custom Works has partnered with Damien Smith Designs to expand the business to include designs over 7.5 metres with a focus on bespoke designed landing craft to suit the north of Australia.
The first was a 12 metre car ferry for the crossing of the Apsley Strait between Bathurst and Melville islands. Tiwi Islanders sing the praises of the vessel.
Mr Smith is particularly proud of an 8.6 metre catamaran landing craft built for the Bawinanga Aboriginal Corporation in West Arnhem Land.
"It's a great vessel designed for Territory conditions," he says. "Like all our boats, it's Territory tough."
The landing craft has attracted a great deal of attention over the past few months, including from the Department of Defence, which plans to spend $12 billion in Northern Australia over the next two decades.
"We have proved that we can build world-class landing craft and are very interested in gaining Defence work. Defence has exacting standards – and so do we. We're perfectionists."
The tourism industry has provided orders for 12 metre and 15 metre vessels to take tourists through the gorges at Nitmiluk National Park.
Inquiries about the larger vessels is steadily increasing.
"At the core of our business is
quality and integrity," says Mr Smith.
"We involve our clients from beginning to end – we build a boat to exceed their expectations."
He has invested 15 years in developing his in-house designs, including using state-of-the art computer-aided design (CAD).
Lead designer Nick Clements uses his expertise in CAD, alongside Reece Stienhort, to take the design plans to the production floor.
"Interstate customers have told us the CAD technology we use gives them confidence," Mr Clements says. "We're proud of that.
"We have our own product range. Being able to design bespoke vessels is one of our key points of difference."
All vessels are built to Australian Standard with surveyed vessels meeting AMSA National Standard for commercial vessels.
Custom Works employs 14 staff at its Winnellie HQ.
"We have concentrated on developing a culture for the dedicated staff to enjoy and be proud to produce the boats they build," says Mr Smith.
He spent many years gaining experience working for other companies before branching out on his own.
"Starting my own business went smoothly because I had a lot of experience in the industry already. But that's not to say it hasn't been a lot of hard work.
"I decided from day one that quality work and integrity would be the focus of the company – doing a first-class job and being upfront with customers, working with them so that they are satisfied".
"That philosophy is still strong in the company and works well."
---
CONTACT
Custom Works
29 Tannadice St,
Winnellie NT 0820
PO Box 38655, Winnellie NT 0821
(08) 8984 3898
admin@customworksnt.com.au
customworksnt.com.au