DOM'S BAR & LOUNGE
COCKTAIL OF GOOD IDEAS
When the going gets tough entrepreneurs get going.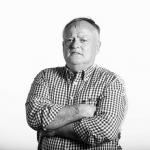 Words by

Nigel Adlam
Published

04 July 2021

Dom Wundke opened Dom's Bar & Lounge in Nightcliff in Darwin's northern suburbs to much fanfare.
Three months later, covid struck – and the Northern Territory went into lockdown for two months. Dom was forced to lay off all his staff and close the doors. But the Territory Government soon eased the lockdown by allowing home deliveries.
Dom began delivering cocktails – with a side of entertainment.
"I laid off all the staff and didn't really know what was going to happen. And then we had an opportunity to do takeaways through the government allowing takeaways and deliveries.
"So, we started the first cocktail delivery service out the back of my ute.
"We were shaking the cocktails fresh on the driveway, rocking up to people's houses with palm trees and lights and music, and entertaining people while we made a cocktail for them in some very uncertain times.
"That really kept us going, kept the momentum going during a pretty difficult time when the doors were shut."
Dom's quirky delivery service made the front page of the NT News.
"I thought the only way to get on the front page of the NT News was to get some sort of crocodile incident, but the driveway cocktails were really popular.
"People loved it. We even did a live cross on national television where I was making cocktails on my own driveway for Sky News on the Paul Murray Live, which was hilarious.
"And from then on we had all sorts of people ringing up and ordering drinks."
His ingenuity and refusal to surrender has paid off – Dom's Bar won the Best New Venue at the 2021 NT Hospitality Awards for Excellence.
Renovations have doubled the size of the venue. Dom's new setup includes private booths and caters for private functions and birthday bookings. There's also a new food menu, with Mediterranean shared platters, a premium wine list, and an array of great new cocktails.
Dom started his career in hospitality when he worked in bars and nightclubs while studying at the University in Adelaide.
He worked in environmental management in Arnhem Land for a year before settling in Darwin – and quickly realised that Nightcliff was not served by a bar and lounge.
"We're looking forward to a really big dry season, expecting a lot of tourists to escape winter down south and get some warm weather."