Amicable Communications
AMY STAYS CONNECTED
The Northern Territory is renowned for the can-do attitude of its people – and that gutsy resilience was demonstrated admirably during the coronavirus lockdown.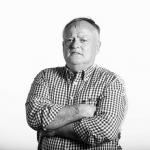 Words by

Nigel Adlam
Published

01 July 2020

Business people in particular came up with innovative ways to keep going. Like all other business owners, Darwin based communications specialist Amy Hetherington was at first "scared and overwhelmed" by the pandemic. But she quickly began thinking of ways to adapt. "I think a 'can-do' attitude is something we develop over time," she says.
"It's like going to the gym and working on a muscle – you've got to make time to strengthen your resilience and focus on positives. "The more you do this in your everyday business practise the more easily it'll come to you in challenging times."
Amy, who owns Amiable Communications, specialises in developing communication skills and creating content in a fun way that connects the community more tightly. She swiftly switched some of her services, such as media making with smartphones, social media, online community development, filmmaking and presenting to camera, to online workshops.
Amy also delivered a series for international students about being job ready and updating resumes. And she was commissioned by the City of Palmerston to run the Art Jam virtual workshops during the school holidays – five workshops for 12-25-year old's focussing on skills such as photography, comedy and public speaking, creative digital portfolios and websites, and stop motion and filmmaking.
"It was great how fast the City of Palmerston was in getting these digital offerings to young people when most were feeling disconnected and unmotivated. "The workshops went well with about 10 in each workshop – perfect for online interactivity – and I've been really proud to see some of those young people using their skills to make new content themselves.
"A lot of the work I did in lockdown was mentoring or skills-sharing based – showing people how to make content with the resources they have available, how to increase their social media game and how to adapt digitally.
"I also reached out to my clients and supporters and the Darwin community to help me spread the word of the services I could offer with limited contact. "That's one thing that's truly special about the Territory business community – word of mouth is so powerful, and I was fortunate to have some local legends help me get the word out there.
"Without the support of the Darwin community and people's willingness to recommend me, I don't think I would have continued to operate the way I did." Amy was born in Albany, Western Australia, and moved to Darwin in 2012 when her husband-to-be Paul got a job with the Inpex project. "I adore Darwin and it's definitely home now."
When not running her consultancy, Amy performs stand-up comedy, drinks her husband's home-brew, goes to bootcamp and chills in her tropical garden with Tully the family dog. TQ