Haileybury School
A PRINCIPAL WITH PURPOSE
Newly-appointed principal Andrew McGregor has nestled in at Darwin's Haileybury Rendall School with a magnificent target – to become the best school in Northern Australia.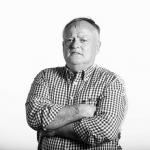 Words by

Nigel Adlam
Published

01 April 2021

Newly-appointed principal Andrew McGregor has nestled in at Darwin's Haileybury Rendall School with a magnificent target – to become the best school in Northern Australia.
"We want to be a great internationally recognised school," he says. "But to be great, you have to do great things."
And the mathematician knows that starts with world-class teaching. Mr McGregor has taken on the role of principal at an exciting time at Haileybury Rendall. Enrolments are quickly rising and the school is about to undergo a serious expansion.
A new 60-bed boarding school for students from South-East Asia – mainly southern China, Hong Kong, Vietnam, Singapore, Indonesia and East Timor – will be built on the campus in Berrimah.
Vigorous marketing to attract Asian students will start shortly and build on the great experience and education Haileybury Rendall will offer boarding students at the Darwin campus.
Haileybury already has a campus in China, and four in Melbourne.
Work will start on the new boarding school in the early dry season and boarders will be moving in from the start of the 2022 school year.
Mr McGregor says the drive to attract international students is strongly supported by the Territory Government.
"They've been great and very encouraging," he says.
"In a few years from now, kids will be sitting together in the lunchroom from different parts of the world. They will be globally connected."
The principal says an Australian education carries great prestige and Darwin is a perfect location because it is "probably the safest place in the world" and is a small, friendly, multicultural city.
Haileybury has 780 students, from the Early Learning Centre to year 12; this is expected to grow to 900 within two years. The school is enrolling an increasing number of Territorians.
"We can provide them with an excellent and unique education. We're a tier 1 school.
"Our teachers and students have access to great resources."
The school has spent $4 million upgrading the Indigenous boarding schools.
The school has 100 Aboriginal students from 28 remote communities.
"We want to make a difference," says Mr McGregor. "Education is the ticket to successful pathways, whether it's back in their home community as leaders and pioneers or going on to tertiary education."
Haileybury gives students a first-class education and helps them grow into understanding, well-rounded and tolerant adults.
All pupils graduate through the Victorian system. Mr McGregor took the Darwin role after eight years as Associate Principal of Westbourne Grammar in Melbourne. He was born in Pakenham in Victoria and grew up in Sale.
"I'm a country boy at heart. I grew up hunting and fishing."
He became a teacher for two reasons – he comes from a family of teachers and his maths teacher when he was 15 was "the coolest bloke I knew".
"I have never seen teaching as a job – it's a calling."
Mr McGregor gained a science degree, majoring in mathematics, at Monash University and then worked for a range of private schools in Melbourne.
His wife Jane leads a national not-for-profit with an office in Darwin.
He has two adult daughters and twin sons who are now in year 6 at Haileybury Rendall.
When not working, Mr McGregor is delighted that strangers in Darwin often say g'day when he and his wife are out walking or enjoying a cool splash by swimming laps.
"I've fallen in love with Parap pool."