Sea Farms
$1.5BN SEA DRAGON VISION COMES TRUE
Millions of people around the world will soon have the chance to throw a top-quality Northern Territory prawn on the barbie.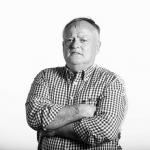 Words by

Nigel Adlam
Published

05 October 2021

Project Sea Dragon expects to produce its first harvest of premium black tiger prawns by late 2023.
The first stage of the massive sustainable aquaculture business will cost $281 million and export 6000 tonnes of prawns in the first year of operation.
This staged project will see up to 10,000 hectares of prawn ponds in production and 180,000 tonnes of prawns will be shipped overseas.
Offtake agreements have already been signed with companies in Europe and Japan. Deals with America, China and Korea are expected to follow.
Project Sea Dragon's Managing Director Chris Mitchell, whose team has driven the world-class $1.5 billion project from conception to the start of construction, says people will be happy to pay a premium for the Territory-bred prawns because they will be the best quality, large and produced in Australia, which has a reputation for clean, green food.
"Prawns are hugely popular around the world," says Dr Mitchell. "They are an attractive source of protein that hasn't been industrialised like salmon, pork and chicken."
Farmed seafood accounts for just over 50 percent of seafood eaten in the world – and demand continues to rise steadily because wild stocks are overfished or fully fished.
"Prawns and other seafood are very healthy," says Dr Mitchell, who is a marine biologist.
"We will help reduce pressure on wild stocks. Farmed seafood is the most sustainable way to provide seafood in the world."
The biggest demand for prawns is in China and America, where prawns are called shrimps, but there are also lucrative markets in Japan, Korea and Europe.
At full scale, Project Sea Dragon will create about 1500 jobs in Northern Australia, including 1000 in the Territory.
Seafarms chair Ian Trahar says: "We are committed to employing local people and businesses.
"The project will have significant economic benefits for the Northern Territory, Western Australia and Australia as a whole."
Two NT companies, Territory Air Services and All Cast, have already won contracts.
Some economists believe the prawn farming enterprise will become more important to the NT economy than cattle.
Dr Mitchell says: "Many of the jobs in the north of Australia are seasonal – Project Sea Dragon will offer year-round employment. The project is in relatively remote parts of Australia and will diversify the local economy."
Project Sea Dragon has five key elements:
A founder stock centre and quarantine centre in Exmouth, Western Australia, where wild-caught prawns will be tested and bred to produce disease-free stock.
A breeding centre and broodstock maturation centre at Bynoe Harbour, 100 kilometres south-west of Darwin by road.
A hatchery at Gunn Point, 75 kilometres north-east of Darwin by road, which will have spawning and rearing tanks for producing disease-free post-larval prawns to stock a grow-out facility.
A grow-out facility on Legune, a working cattle station near Timber Creek, where prawns will be grown and harvested – the ponds will cover 10,000 hectares and the whole operation will eventually have a footprint of 30,000 hectares.
A processing plant and 300-bed workers' village at Kununurra, Western Australia, where harvested prawns will be received, frozen, packaged and despatched to port for export.
Project Sea Dragon is committed to world's best practice and has made biosecurity and environmental protection priorities.
It is following all the recommendations made by the NT Environment Protection Authority and the Federal Department of Environment and Energy.
For instance, a water quality monitoring and management program is being developed with an independent scientific expert to ensure there is minimal impact on Legune's marine, estuarine and freshwater habitats.
A monitoring and mitigation program is also being developed to ensure the protection of waterbird breeding colonies on the station.
Other initiatives include weed, pest and fauna management plans, plus erosion and sediment controls.
Seafarms has operated a pilot prawn farming enterprise in north Queensland since 1988.
The Crystal Bay business, which harvests up to 1800 tonnes a year, is one of the largest prawn producers in Australia. But it will be dwarfed by the Territory operation, which by completion of its first stage  will produce 10 times more prawns than the company's Queensland farms.
Seafarms has runs on the board in biosecurity and environmental protection – its Queensland operation was named Farm Biosecurity Producer of the Year in the 2020 Australian Biosecurity Awards.
It was recommended for the award by James Cook University.
Project Sea Dragon was awarded Major Project Status by the Federal Government in 2015, and is strongly supported by the Territory, Western Australia and Commonwealth governments.
Support includes upgrading the Keep River Road, which will guarantee all-year access between Kununurra and Legune Station.
It has also been granted all the necessary licences.
Chief Minister Michael Gunner says: "Territorians love their seafood, and they especially love their prawns – but this project is really all about the hundreds of jobs.
"It is creating new opportunities for businesses and building up the Territory's aquaculture sector and exports.
"Projects like this put the Territory on the map as Australia's comeback capital."
And NT Agribusiness and Aquaculture Minister Nicole Manison says: "This is such an exciting project for the Territory because it means jobs, jobs and more jobs.
"The Territory's aquaculture sector has a significant role to play in our economic recovery and Project Sea Dragon will see the very best black tiger prawns grown here in the Territory.
"We know how much this will strengthen industry right across the board, build confidence to attract new projects and create more jobs."