DIVERSECO BRINGS US THE ROBOTIC WORLD
A trailblazing company that represents the brave new world of Industry 4.0 has set up shop in Darwin.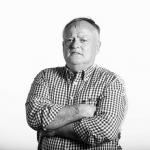 Words by

Nigel Adlam
Published

30 March 2023

As its name suggests, Diverseco is a diverse company dedicated to helping businesses with transformational automation and specialised weighing solutions, addressing business efficiencies and, through their extensive bespoke and problem solving capabilities, can result in businesses achieving increased productivity and efficiency within a stronger workplace health and safety environment. These solutions cover stages from concept design through to project management, commissioning, servicing, after-sales support, and training.
Diverseco originally commenced its business model in selling, installing and maintaining industrial weighing and measuring systems – everything from small systems in relatively small workshops to weighbridges handling road trains. The specialised weighing solutions and services optimise operations from receiving to shipping with solutions for production, end-of-line product inspection and critical logistics Chain of Responsibility requirements.
Diverseco ensures that customer processes are optimised for maximum accuracy, optimal efficiency and reliability unique to each customer's operational requirements. Results include improved product quality, accelerated and automated processes and increased productivity, efficiency and regulatory compliance.
The solutions span from custom-built weighbridges in the Diverseco Melbourne facility to service, upgrade, preventative maintenance, breakdown and spare parts to a whole range of Industry 4.0 ready solutions, across a national footprint.
But Diverseco's most attractive solution area – central to their Automation capabilities – are in industrial robots and collaborative robots (cobots), which are revolutionising the way we work –
and there is a stark difference between the two.
Industrial robots are used for large-scale, long-run manufacturing operations requiring separate, caged-off (from human workers) work environments, whereas cobots are designed to carry out short runs, low volume, repetitive tasks, such as welding , buffing, and pick and place on a conveyor belt, collaboratively alongside human workers in a shared work environment.
These cobots are revolutionising the way manufacturers and businesses with similar labour constraints operate.
Diverseco founder Brenton Cunningham, who trained as a fitter and turner before carving out a successful career in finance and then the industrial weighing and measurement industry, says cobots are ideal for small to medium-sized businesses – which covers more than 99 percent of Northern Territory companies. His team assesses a company's automation needs, creates a proof of concept, designs a customised cobot or robot solution to fit the task, installs the machine, provides the customer access to a dedicated project management team, and provides after-sales maintenance and support to ensure ongoing customer success. The recent partnership with Charles Darwin University means that the automation solutions will be complemented by unique opportunities to upskill, which in turn will diversify the Territory economy and meet industry needs. "Many business people are scared of cobots and automation in general," Mr Cunningham says. "They want their production to be more efficient but are afraid that after spending a lot of money on automation they won't be able to support or maintain it.
"Now they've got someone local to teach and maintain." Mr Cunningham says robots and cobots are not yet R2-D2, the clever little robot in the Star Wars movies. "Cobots are becoming more user friendly, but we're a long way from having robots without human involvement doing everything." But he says cobots are becoming more user friendly and accessible to users who are not academically trained experts such as mechatronics engineers. Diverseco setting up shop in Darwin is part of an initiative that opens the way for manufacturing in the Territory to be easier, more efficient and more advanced. The new showroom in Cavenagh Street offers Territory businesses direct access to automation services and solutions, including industrial robots of all sizes, and weighing solutions to increase efficiency, productivity, safety and regulatory compliance.
The Diverseco agreement includes a partnership between the Advanced Manufacturing Growth Centre, Charles Darwin University and the Territory Government.

The Government put up $7.2 million to all industry to make possible the exciting initiative, which will create about 15 jobs. Four micro-credentialled courses in mechatronics are to be run at the university to train Territorians in how to use robots and cobots. Enrolments are on track to open from the second quarter of this year. "The challenge for us is to make cobots accessible and more practical for end-users who are not academically trained experts," says Mr Cunningham. "It's not feasible for people to implement robots or cobots but then still have to pay a mechatronics engineer to come in and type out some code to adjust to a new task or every problem. "One of the biggest problems we face is that we don't have enough people who know how to operate and work with robotics. "That's why we're developing dedicated micro-credentials with Charles Darwin University to, in effect, create a robotics trade accreditation. "Because, at the moment, there's no mechatronics trade." Mr Cunningham says cobots can not only make production more affordable and more efficient, but also ease Australia's labour shortage, which is acute in the Territory, by getting them to do what workers would do. "Robots and cobots will do the repetitive work. They won't deprive people of jobs – they will lead to people being redeployed to other, more interesting work., and create another workforce.The Diverseco showroom was opened by Chief Minister Natasha Fyles. "Advanced manufacturing will be a major jobs driver of the future, and this new partnership will provide local manufacturers with the ability to turn their dreams into realities," she says. "With Diverseco opening its doors in Darwin, we will see local businesses gain direct access to new automation and robotics solutions, which in turn will diversify and strengthen our economy. "By growing Territory capabilities in advanced manufacturing, we are expanding industries and export opportunities, creating new opportunities for investors and exciting job opportunities for Territorians." Advanced Manufacturing

Minister Nicole Manison says: "This collaboration will allow businesses to be proactive in improving the efficiency and competitiveness of their operations, as well as upskilling their workforces to keep up with industry demand. "Growing the Territory's advanced manufacturing industry is a key part of our strategy to grow the economy to 40 billion by 2030 and create more jobs."