TEC AUTOMATION: WE'RE HERE!
Born-and-bred Northern Territory business TEC Automation has proved that it can successfully carry out major projects for big clients.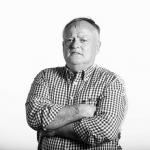 Words by

Nigel Adlam
Published

31 March 2023

"We've shown we can deliver," says Ryan Smith, who co-owns the Darwin-based electrical control systems and automation company with wife Soraya.
"We've proved to be a good local solution by offering great service, good pricing, professional response and technical versatility."
TEC automation has carried out a suite of key projects since being founded in 2019, including:
Building management systems for heritage buildings at RAAF Base Darwin, including humidity control and energy efficiency
Power and Water Corporation contracts in remote communities, including monitoring of sewer and water operations
Working in partnership with Ventia to maintain and provide various services to Defence sites, such as Robertson Barracks, Mount Bundey, RAAF Base Darwin and Defence Establishment Berrimah – the work includes preventative maintenance, breakdowns, repairs and new installations
Contracts for building companies working in remote communities, including the Tiwi Islands, Wadeye, Daly River and Lajamanu
A full upgrade of the lighting at St Mary's Football Club in Darwin
The company has moved to larger premises in Pinelands to better handle the growing amount of work.
A new workshop enables improved administration, customer service, engineering and testing, and on-site manufacturing of control panels and switchboards.
TEC Automation continues to develop its capabilities, safety standards, procedures and policies to work with government, Defence, mining, and the oil and gas industry.
"Clients want to be reassured that a job is going to be done efficiently and safely, on time and on budget," says the co-director. "We've proved that we can provide that assurance.
"We're ready to take on even more projects.
Soraya says TEC Automation continues to provide quality assurance.
"Our company structure and work procedures are right, which means we offer quality assurance, proper delivery, affordability and staying within budget," she says.
"Quality of service is everything to us. We set high expectations for clients – and aim to meet those expectations every time.
"Our range of services – from engineering to repairs and administration – are integrated to ensure all our clients get the best products, services and expertise available anywhere in the Northern Territory.
"We want the corporate world to learn more about our capabilities. They don't need to go interstate – the work can be done to the highest standards right here.
"We've built a good reputation and strong relationships within our industry."
TEC Automation is renowned for offering extensive training for its expert staff – it employs four electrical apprentices, instrumentation apprentices and business administration trainees.
The company is majority Indigenous owned and is working towards a reconciliation policy that commits to giving training and employment to Aboriginal and Torres Strait Islander people.
Directors Mr and Mrs Smith were both born in Darwin – they understand the community and give back by investing in staff and sponsoring community events.
---
CONTACT
TEC Automation
2/43 Marjorie Street, Pinelands NT 0829
PO BOX 37001 Winnellie NT 0820
(08) 8968 9484
info@tecautomation.com.au
tecautomation.com.au
TEC Automation's capabilities include
ENGINEERING: design and construction of graphics and programming for automation and SCADA systems to gather and quickly analyse real-time data in industrial and commercial settings, including sewerage, water and oil.
FUEL: servicing instruments in various fields, including hazardous areas, sewerage and water, and oil and gas, plus the installation and maintenance of control systems, and facilitating fault finding to ensure minimal interruptions to production.
BUSINESS MANAGEMENT SYSTEMS: carrying out general maintenance and repairs of heating, ventilation, and air conditioning systems.
SWITCHBOARDS: cleaning switchboards, including designing and producing switchboards locally to any specification or upgrading switchboards to modern standards.
LIGHTING: comprehensive solutions and simple lighting management software systems, remote light point management, lighting automation, and energy efficiency and resilience that improve operator control.
SERVICING: general electrical work of almost any kind, including repairs, installation and maintenance in commercial and industrial settings.