STARLIGHT PUTS A BIG SMILE ON OUR KIDS' FACES
The surprised look of joy and recognition on the face of a young child in a remote Northern Territory community is "thank you" enough for Captain Starlight from the Starlight Children's Foundation.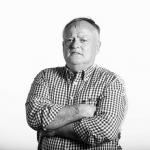 Words by

Nigel Adlam
Published

31 March 2023
He's one of four Captains from the Starlight Express Room at Royal Darwin Hospital who flew to the Territory on a red rocket fresh from Planet Starlight.
The Starlight Express Room uses fun, laughter and play to transform the often isolating and scary world of hospitals for thousands of seriously and chronically ill children from across the Territory.
For one Territory child, his experience of joy, fun and laughter with Captain Starlight in the Starlight Express Room at RDH was the memory that stayed with him when he returned home to his community instead of the isolation, pain and other tough hospital memories.
"This child was in hospital and had to stay for a couple of weeks, and we really had a lot of fun in the Starlight Express Room," Captain Starlight says. "And then when I went with the Royal Flying Doctor Service to help out at the clinic in a remote community, he recognised me and it was really special to see him better and living happily back in his community."
Starlight Program NT Manager Jesse Butler says Starlight Foundation's Healthier Futures program, which sees the captains spread joy, fun and laughter to health clinics in remote communities, and the Starlight Express Room is all about empowering seriously ill and chronically ill children.
There are craft tables, vintage arcade games, a mini-kitchen, computer games and just a chance to have fun and be a kid again on offer at the Starlight Express Room.
"The program gives kids the power back to do what they want to do," Jesse says. "When kids come into hospital they get told what to do and have a strange, new routine with new people they don't know. We help to empower the kids because the first thing we ask in the Starlight Express Room is, 'what do you want to do?'"
Jesse, who works from the control room, says the Captains, being new to Earth, are an important part of the Captain Starlight mythology – to build a fantasy world for children so they can escape from the pain and loneliness of being in hospital.
Before their mythical journey to Planet Earth, Captain Starlight were performers and trained in therapeutic arts and teaching – skills that have translated into their main superpower: to have fun.
"We make sure they still have some of their childhood intact while they are in hospital," they say.
They also make sure that the medical world does not enter the Starlight Express Room – which is the only treatment free space in the hospital where the children and parents are free to play and relax without medical talk.
For the captains, it is seeing a child relax or feel comfortable enough to play and engage with the other children and Captains that makes their day.
"It is so great to see the difference in the children when they first come in and then how much happier they are and more comfortable as they spend more time with the captains in the Starlight Express Room."
The program helps reach through barriers of culture, literacy and language that can sometimes stop children from joining in the fun.
"Our captains need to be able to play when needed or just listen and watch," Jesse says.
"Their skills of empathy and engagement are just as important as they build connections in a fun, playful way.
"The doctors, nurses and medical staff are on board too because they see the difference we make in their patient's lives."
INPEX is partnering with the Starlight Children's Foundation in the NT and has helped fund the Starlight Express Room as part of their investment in the local community.
INPEX and Ichthys LNG have supported the foundation since 2012 through fundraising campaigns and INPEX employees volunteering and supporting activities, including the Christmas party.
Jesse says the local funding, which remains in the Territory, helps the program continue to run and will see the Starlight Express Room being renovated this year with upgraded technology and more space for fun and games.