ON THE ROAD
MEET OUR OWN FORREST GUMP
Klaus Menzel hit the road on his trusty pushbike after his wife told him to "nick off" 26 years ago.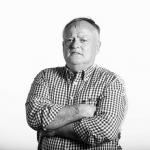 Words by

Nigel Adlam
Published

01 October 2020

The 73-year-old German-born eccentric hasn't stopped pedalling since. He has cycled from Hong Kong to Europe three times, through China, Mongolia and Russia, criss-crossed South America and been to nearly every place worth visiting in Australia.
The retired construction worker has only been knocked off his bike once – in Norway. Klaus is happiest when he is puffing up and down the Stuart Highway from his hometown of Alice Springs to Darwin.
He used to ride around with two pet camels. But they died and he now travels alone on his solar powered electric bike, towing a small, home-made metal cart with his tent and cooking gear. The Territory's own Forrest Gump travels up to 120 kilometres a day at a steady 15km/h.
"It's hard to explain why I do it. I'm just happy when cycling. "A tourist came up to me once and asked, 'What's your ambition in life?' And I said, 'Not to be like you'."
He doesn't carry a swag because it would be too heavy – "you need a car to carry one of those things" – and either camps at roadhouses or in the bush. Klaus enjoys living in Alice Springs.
"It's a good little town. There's everything there that you'd ever need." He used to earn "big money" on remote mine sites but now is happy with less than $200 a week.
"I live much better, although I must give up smoking – it's too expensive and bad for your health." His advice to the rest of us is to slow down, stop working so many hours and enjoy life. Klaus emigrated to Australia when he was 19 – unable to speak any English.
"The journey here from Germany was cheap and the government didn't ask for money to get in. "All you needed in those days was a trade – and to be white."