Obituary: John Ah Kit
JOHN AH KIT: A LIFE LIVED TO THE FULL
It was a decidedly Territory affair.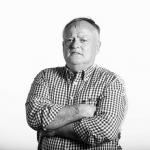 Words by

Nigel Adlam
Published

01 October 2020

Thousands gathered in a Darwin football stadium to farewell one of their own – men and women, young and old, black, white and every colour in between, Labor true believers and conservative diehards.
John "Jak" Ah Kit would have been proud to know that he was being given a state funeral and that so many had turned out in the dry season sun to pay their final respects and celebrate a life well lived. But the many who knew him well also suspect he would have allowed himself one of those trademark slightly mocking big grins and asked: how did I, a bloke of Chinese-Aboriginal heritage, born to a poor family of 13 in the Outback town of Alice Springs, come to be honoured in such a grand and moving way?
Jak dedicated much of his life to fighting for Indigenous people; he worked with determination, courage and good humour. His friends and family adored him; his political rivals respected him.
He is remembered for many things. But friends like to recall one incident – the day he taunted Chinese-Australian conservative politician Richard Lim
Jak, who was proud of his Chinese- Aboriginal heritage, looked across to the Opposition benches and said: "You don't like it because I'm a better-looking Chinaman than you."
Lim was not renowned for his sense of humour and sat grim-faced and furious. But Jak wore one of those grins – he was clearly joking and clearly enjoying himself. And that's how he's remembered by so many: A Labour man to his bootstraps, a wit and a joker – but never intentionally nasty.
Former Chief Minister Paul Henderson says: "He liked to mock his political opponents – that's all part of the game – but he never wanted to hurt anybody."
Jak's grandfather, Jimmy Ah Kit, sailed from Hong Kong to the Territory in a sampan and married Jane, a Waanyi-Garrawa woman. When Jak visited China and told the story to his hosts, they told him that his ancestry gave him residency rights in Hong Kong. "In short, 'I had a form of land rights. I'll be buggered, I thought.
I'd spent about 15 years fighting to defend land rights in the Northern Territory, and here are my Chinese cousins suggesting it wasn't too much trouble to organise after all." His humour was often edgy.
For instance, he entitled a speech to Federal Parliament: A Chinaman in the woodpile – or a blackfella in the House? But Jak could lose his temper. He was furious when the CLP portrayed him as a mixed raced "yellafella" as he entered Parliament in a 1995 byelection.
Every Territorian knows that "blackfella" and "whitefella" are harmless, quite acceptable words, but that "yellafella" is deeply offensive and racist. In a furious outburst in Parliament, he called the CLP campaign "disgusting".
Jak died in Darwin in July at the age of 69. He was born in Alice but was brought up in Parap Camp in Darwin – and remembers himself as a youngster as a "bare-footed ratbag." His interest in Aboriginal politics was sparked by Kwementyaye Perkins in 1971 when he was only 21.
"One of the loveliest things I've seen in my lifetime is coming out of the seventies into the eighties, where Aboriginal kids started to wear our colours with pride – the anklets, the necklaces, the watches and the T-shirts," Jak once said.
"There's no second thoughts about 'my Aboriginality'. It's now, 'That's our colours and I'm wearing them'." Jak was a ringer, truckie, painter and tiler before becoming head of the Northern Land Council in his early thirties.
NLC chair Samuel Bush-Blanasi says Jak was a great leader who was "never afraid of taking on powerful interests to help our mob". "Jak's life provides a lesson to all of us blackfellas—it doesn't matter that you were born in Alice Springs and grew up in the Parap Camp in a tin shed with 12 brothers and sisters.
"If you work hard, stay loyal to your people and keep going through all the knockbacks and the hard-fought wins you can lead your people and set the kind of example we all admire."
Jak left the NLC after six years to make an unsuccessful attempt to enter Parliament. A year later, he was appointed director of the Katherine-based Jawoyn Association, which soon won back ownership of Nitmiluk Gorge.
Jak was not born a Jawoyn man but was adopted into the nation by elder Manakalula Alice Mitchell – often called the Jawoyn Queen – and given the name Bangardi. He played a major role in stopping the mining of the sacred site Guratba at Coronation Hill and was a driving force with Galarrwuy Yunupingu in delivering the Barunga Statement, which called for a treaty.
And he campaigned for better health services and negotiated with the Territory Government for the first dialysis machine in Katherine, which meant patients no longer had to go to Darwin for treatment.
Jawoyn Association chair Lisa Mumbin says: "He was a special brother to me." Jak resigned from the association in 1995 to successfully contest the seat of Arnhem for Labour.
In 2001, he became the first Aboriginal Cabinet Minister in Territory history. As Sports Minister, he was known as the Minister of Fun. He served in Parliament for 10 years until retiring in 2005.
ABC broadcaster Charlie King says: "Jak set a model standard for a politician, an iron fist in a paper bark glove … In some ways, he was our Aboriginal Gough Whitlam."
Jak was president of Darwin Buffaloes, loved Country and Western music, and enjoyed a punt and a pint. But beneath the smile, there was great heartache.
Jak had five children: Darren, Patricia, Jonathan, Ngaree and Bardi. Patricia died of leukemia when she was 20 – leaving behind a three-year-old girl, Talisha, now 28 – and Bardi took his own life at the age of 17. Johnathan's son, Robbie, was born on what would have been Bardi's 18th birthday.
His wife Gail says: "Family was everything to him – he had to deal with terrible grief."
Ngaree, who followed her father into Parliament as a Labor MLA, says: "Everybody else remembers him as a good politician, a great negotiator, a fighter for people's rights. "We remember him as a good dad.
"Our house was always open; we were always taking in people. The first time you were a guest, the second time a part of the family – and that meant helping with the washing up."
The final word goes to his son Jonathan: "I will always be proud to be the son of John Ah Kit."