AVRIL BAYNES – A Territory Ambassador
Avril Baynes was 14 when she flew from her home town of Adelaide to Darwin to visit relatives.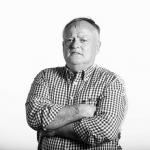 Words by

Nigel Adlam
Published

10 July 2023

"I fell in love with Darwin immediately," she says. "It was like no other place I'd ever seen.
"I loved the great casual lifestyle. It felt like being set free from all the boundaries of Adelaide."
Avril left school at 17 and almost immediately caught a flight to Darwin to start a new life.
That was 34 years ago. She is now the general manager of Mindil Beach Casino Resort. Avril is the first Territorian to head the entertainment hub and is one of only a handful of female casino bosses in Australian history.
She is also the new chair of the Darwin Major Business Group, which is made up of 14 large Territory companies.
Avril has overcome many big challenges in her career, including running a nightclub in Alice Springs, gaining a law degree while working full time and, believe it not, becoming a competitive bodybuilder.
"I'm someone who thrives on a challenge – if the world fails to provide enough of them I will go and find some more. That's me.
"My mum used to say, 'If there's an easy way and a hard way, you'll take the hard way'.
" Avril was born in the crayfishing and timber town of Millicent in South Australia – where her father Leigh, now 79, worked in the family's menswear store and local mill – but moved to Adelaide when she was a baby.
Her mother Pat, now 77, was a high school teacher who taught home economics and later special education.
"My parents are my greatest role models. I was very fortunate with my parents. They never tried to put me in a box. They said, 'Study hard and go out into the world and do what you want to do'."
Avril went to state schools in Adelaide.
"I don't come from a wealthy background. My parents appreciated a good education. I certainly wasn't a straight A student, but I didn't have to work hard. Most of it came to me easily.
"I enjoyed learning, though, and I still do, which makes me an awesome trivial pursuit partner."
After arriving in Darwin as a teenager, Avril did two years of a business degree at what was then the Northern Territory University before inexplicably losing her zest for studying.
"I decided to go to work and become a waitress, which at the time I thought was a pretty unrewarding job. I look back now and can't help but smile at the 30-year career I have built on the back of a job I expected to be the worst job in the world."
She got a job with the Sheraton hotel chain and was sent to Uluru in the shadow of The Rock.
"It was amazing."
Little did she know, Avril was to spend the next 18 years in Central Australia.
She is grateful to have worked with one of the titans of the hospitality industry, Shirley Brookshaw, who died last year.
"She forged my work ethic and gave me my passion for customer service – I found that there's nothing better than exceeding a customer's expectations.
"People can have a really bad day. And then they come to your bar or restaurant – or the casino – have a drink, some food, maybe a flutter, and feel good about themselves again. That's a great thing to see and be part of. It's special."
Avril later bought a share in Bojangles in Alice Springs with her then partner and Angie and Peter Reidy.
The bar and nightclub was open seven days a week.
"It was hard work, very intense. I had to work long hours to build the business."
If running an open-all-hours nightclub wasn't hard enough, Avril started studying online for a law degree from Charles Darwin University.
"I'd work long hours at Bo's, get home at midnight and listen to law lectures."
She achieved the degree after six years and in 2008 was taken on as an associate by Justice Reeves.
"It was a fantastic experience. I was in my mid-thirties and all the other associates were in their twenties so I was the 'old girl' on the court circuit."
She then worked for CridlandsMB, now HWL Ebsworth, as an industrial relations lawyer for four years before joining the Commissioner for Public Employment.
Incredibly, Avril gave up her promising legal career in 2015 to return to hospitality as HR manager at the casino resort.
"The call of hospitality was just too strong. I couldn't resist it. I enjoyed the law but I have never regretted my decision to go back to hospitality.
"It's the people connection. As a lawyer, you often see people at their worst and you can't always get them their preferred outcome. But like I said, you have the perfect opportunity to have a positive impact on people in hospitality – you can help cheer them up, have a good day."
Avril rapidly rose through the ranks at the casino resort before being made general manager in 2020.
She married Ross Baynes, executive general manager of property and terminal at Airport Development Group, in an Alice in Wonderland-themed wedding at the casino in 2017.
Avril is a positive person.
"There's no point in wallowing in what could have been," she says. "There's a reason the rearview mirror in a car is small – because you shouldn't spend too much time looking back. We should look forward." She is also up for life.
"I remember a conversation between my dad and sister. He said, 'Life will give you lots of opportunities. Take one. And I thought, 'No. I want to take them all'.
"I'm willing to have a go at anything."
Avril has played volleyball at the Arafura Youth Games, been a navigator in off-road racing and a bodybuilder for a couple of years in Alice Springs – where she won a few competitions, not as a bulky bodybuilder, but in the "sports" category, which demands a sculptured look.
She laughs at the memory of being crowned NT Glamour Sports Model.
"But bodybuilding is a single person's sport because the diet and general regimen are so strict.
"I gave it up when I met Ross. I found I preferred spending time with him and going home for a steak and glass of red wine rather than being in the gym and nibbling broccoli."
Avril sits on several boards, including AANT and GTNT.
"We all have a responsibility to our community," she says. "We can't just take all the time. We have to give back.
"It's like at the casino. We're a big part of the community and we're focussed on giving back.
"We've got a duty to help the economic and social growth of the Territory."
Avril has lived in the Northern Territory for more than 30 years – and despite its enormous challenges, loves the place.
"I couldn't imagine living anywhere else," she says. "Could you?"