A WIRE ACROSS THE HEART OF AUSTRALIA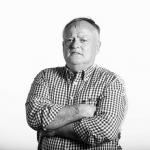 Words by

Nigel Adlam
Published

30 September 2022
Grocer's son and brilliant mathematician Charles Todd went for his usual once-a-week dinner at the home of a family in England and announced that he had been given a new job as astronomical observer and superintendent of telegraphs in South Australia.
He envisaged a lonely life in what was then an isolated corner of the world and said: "I can never imagine any woman agreeing to come with me."
His host's well-educated 15-year-old daughter, Alice Gillam Bell, piped up: "I'll come with you, Charles."
Todd and his new wife arrived in Australia in 1955 – and within a few years the man who named a town after his bride and had a river named after himself set about laying the 3200 kilometre overland telegraph line from Adelaide to Darwin.
Charles and Alice had the good sense to remain in Australia for the rest of their lives and are buried at the North Road Cemetery in Adelaide.
About 200 history buffs and dignitaries, including Northern Territory Administrator Vicki O'Halloran, gathered at Frew Ponds to mark the 150th anniversary of connecting Australia to the rest of the world.
Frew Ponds, 640 kilometres south of Darwin, is the exact spot where linesman Bob Patterson joined the wires on the afternoon of 22 August 1872 – and got an electric shock for his trouble.
Mail from Australia used to take seven weeks to reach Britain. The electric telegraph delivered morse code messages from Darwin to Indonesia and then the world along a single wire strung from wooden poles across the Outback.
Allan McGill, chairman of the NT Heritage Council, began an interesting speech to the anniversary crowd by playing a recording of a morse code message saying: "Good morning and welcome."
He said the telegraph line could carry seven morse code messages – an undersea communications cable opened last year can carry millions.
The line was key to ending Australia's isolation, boosting the economy and opening up Northern Australia.
Telstra, to its enormous credit, is funding research into the devastating effect the telegraph and the opening of the north it encouraged had on Indigenous people.
Cameleers were brought to Australia to help build the line.
They are still identified as Ghan in a mistaken belief that they came from Afghanistan – in fact, they came from India and what is now Iran.
Many of the cameleers stayed in Australia and assimilated into the community – their descendents can be found throughout the Northern Territory.
Unfortunately, their camels were allowed to go feral and now there are hundreds of thousands of them wreaking terrible damage on Central Australia's fragile ecosystem.
The first message sent from Darwin to London ended with: "God save the Queen."
Todd was triumphant and messaged:
"We have this day, or within two years from the date it was commenced, completed a line of communications two thousand miles long through the very centre of Australia, until a few years ago a terra incognita believed to be a desert."